ABOUT ESSENTIAL MOVEMENT
®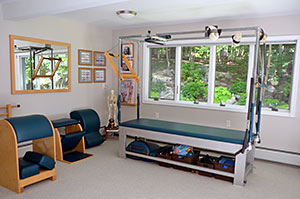 essential movement​® llc was established in 2002. For 19 years It has been a studio dedicated to the authentic exercises of Joseph Pilates. The teaching is based on the excellent training of Romana Kryznowska, or "Romana's Pilates", and the studio is fully equipped with Gratz equipment. The studio is a private, quiet setting that has abundant natural light with a spa like atmosphere. ​​
In 2021, the curriculum expanded, offering Private and Group lessons in the GYROKINESIS® method; which is a movement method that addresses the entire body, opening energy pathways, stimulating the nervous system, increasing range of motion, and creating functional strength through rhythmic, flowing movement sequences. It is an original and unique method, which coordinates movement, breath and mental focus.
What makes this studio unique is the teaching that goes on within. Client needs are always the priority, whether it's schedule flexibility or attention to exercise modification, the client is why we're here. It is the goal to make the client comfortable and confident in what is happening in every session. It is not just what you do in a Pilates or a GYROKINESIS® session that is important, but how you do it. The structure of any workout is important but it's more important that you, the client, experience and understand the goals of the workout. Everyone comes with his or her own needs: it's our goal that everyone leaves feeling and looking better every time!
Pilates or the GYROKINESIS®method can benefit everyone. Athletic people come to improve their performance in many different endeavors: golf, tennis, running, softball, dance, skating, and channel surfing. Some clients have come to essential movement® to improve their daily life with "issues" such as: knee pain, shoulder pain, neck pain, scoliosis, sciatica, herniated discs, post surgical recovery, pregnancy, joint replacement, breast cancer recovery, MS, and Parkinson's Disease to name a few.
You are welcome to try any of our offerings, Privates, Mat Classes and the GYROKINESIS®  method to experience the personal and unique atmosphere of essential movement​®